MISSION SPECIALE EN COREE DU NORD
SPECIAL MISSION IN NORTH KOREA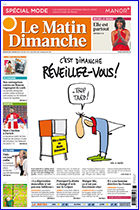 AVIS DE RECHERCHE
Certains jouent au scrabble d'autres font des mots croisés, c'est juste que par un jour de pluie déprimant quand j'ai vu cette affiche placardée sur le mur d'un solarium, je me suis demandé si il y avait matière à publication ?!?!
C'est une bien simple et amusante manière d'occuper ses pensées pendant qu'on bronze idiot en se demandant si LE lendemain MATIN on pourra relire noir sur blanc ou pas ses pensées au café du coin.
WANTED
Some people play scrabble, others do crosswords to keep busy. As for me, when, one wet, miserable day, I saw these posters plastered all over the walls of a solarium, my thoughts turned to whether I could get this story into print?!?!
Imagining reading about your musings in tomorrow's daily paper LE MATIN in your local café is a simple and entertaining way to occupy your mind while you're lying there getting a suntan.
TABAC A LA SUEDOISE
C'est en sortant du solarium (article précédent) que je me retrouve quelques instants plus tard dans une enseigne prestigieuse de tabac à la Rue de Bourg sur la re-même question d'un y'a t'il matière à publication ?!?!
En première d'un "Deux sujets dans la même journée" pour une publication LE lendemain MATIN réussie mais faute à manque de place à quelques jours d'intervalle seulement, m'amène à me dire qu'au fond y'en a pas besoin de beaucoup pour se marrer et que si le Royaume des Cieux appartient aux simples d'esprit, je dois avoir une place en VIP.
SNUS
A few minutes after leaving the solarium (see previous article), I was in a luxury tobacconist's in Rue de Bourg, when the same question crossed my mind, could this also be a story worth publishing?!?!
For the first time ever, I managed to get "Two subjects in one day" published in LE MATIN newspaper the following day, although due to lack of space, the articles appeared a few days apart. I drew the conclusion that it really doesn't take much to have fun, and if the Kingdom of Heaven belongs to the simple-minded, then I must be one of the VIPs.
SUR LES PAS DE YULL BRYNNER ET AUDREY HEPBURN
Fantasme d'enfance, je savais que Yul Brynner habitait cette résidence mythique et je m'étais toujours dit qu'un jour il faudrait que je visite son appartement avec sa fameuse méga piscine sur le toit.
Cinquante ans plus tard en passant devant par hasard, mes souvenirs se réveillent. Réflexion action et sous le prétexte tout trouvé d'un reportage en rapport à Yul Brynner, Capucine, et Audrey Hepburn, je réussis à me faire introduire dans un appartement de la résidence.
Yul mort et enterré, rêve américain pour cauchemar Portugais, le présent va balayer le passé en m'imposant l'inconcevable, ce que je vais y apprendre fera l'objet du présent article, et si Yul Brynner fût l'un des sept mercenaires cinématographiquement parlant, aujourd'hui ce n'est pas du cinéma et je signe Robin des Bois, en espérant ne pas avoir tous les avocats des résidents sur le dos pour usurpation d'identité
IN THE FOOTSTEPS OF YULL BRYNNER AND AUDREY HEPBURN
It was one of my childhood fantasies. I knew that Yul Brynner had lived in this mythical building with its famous rooftop swimming pool and I'd always had a yearning to see inside his flat.
Fifty years later, I happened to be going past this block of flats and remembered my former dream. I decided to act on it there and then, and on the pretext of working on a documentary about Yul Brynner, Capucine and Audrey Hepburn, managed to gain access to one of the flats.
Yul is dead and buried and the American dream has turned into a Portuguese nightmare, changing the past into an inconceivable reality, which this article will divulge. Even if Yul Brynner was one of the Magnificent Seven on the silver screen, this is not make-believe.
I am signing this piece Robin Hood, hoping the residents' lawyers will not pursue me for identity fraud.
RAZZIA CHEZ LES COMMERCANTS DE LA VILLE SUITE A L'ARTICLE DE JUIN QUI VAUDRA AU SUJET UN PASSAGE AU JOURNAL TELEVISE DE 19H30
RUSH ON LOCAL SHOPS FOLLOWING THE ARTICLE IN JUNE AND THE SUBSEQUENT REPORT ON THE 7.30 TELEVISION NEWS